ACMER M2 Laser Rotary Roller Laser Graveur Y-axis Rotary 360 ° Roller
---
ACMER M2 rotary roller, the perfect upgrade for expanding your engraving capabilities and adding variety to your projects. Designed specifically for engraving tumblers and cylindrical objects with ease, this rotary roller is a must-have accessory for any laser engraving enthusiast.

 

Features

Wide Compatibility: ACMER M2 rotary laser engraver is compatible with a wide range of laser engraving machines, making it a versatile choice for professionals and hobbyists alike.


Easy Mode Switching: With a convenient toggle switch, you can easily switch between rotary and non-rotary modes. When you don't need to use the rotary function, simply turn it off.


Easy Setup and Use: The rotary roller comes fully assembled and ready to use right out of the box. Simply connect it to your laser engraving machine by replacing the Y-axis terminal. No complicated assembly required, allowing you to start engraving quickly.


Perfectly Matched for Round Objects: The one-piece rubber laser engraver rotary is designed to engrave round or cylindrical objects such as cups, pens, bottles, pipes, bowls, drums, tubes, and over-length plates. Its high hardness and strong friction ensure precise 360-degree engravings.


Adjustable Engraving Table Height: The rotary roller features adjustable axes, allowing you to process a wide range of cylinder diameters. Before use, please ensure that the space between your machine's laser head and engraving table can accommodate the added height.


100% Pre-Assembled, Plug and Play: Our rotary roller comes fully installed in the package, complete with an adapter cable. Simply connect it to the Y-axis wiring of your laser engraving machine, and you're ready to engrave cylindrical objects like pens and water bottles.

Easy and Fast Sliding Adjustment: Adjusting the distance for different sizes of cylindrical objects is a breeze. Just slide and fix the screw by hand, allowing for quick and precise adjustments. The rotary roller's high-friction 70A anti-slip rubber shaft and durable steel construction ensure a longer service life.


Widely Compatible: We provide two motor extension cables, making our rotary roller compatible with other brands of engraving machines. Enjoy seamless integration and expand your engraving possibilities.

Upgrade your laser engraving experience with our versatile and easy-to-use rotary roller. Enhance your creativity and unlock new possibilities for engraving on cylindrical objects. Order now and take your projects to the next level!

 


Flexible and adjustable
| | |
| --- | --- |
|  Brand | ACMER |
| Type | Laser Rotary Roller |
| Model | ACMER M2 |
| Color | Black + Orange |
| Material | Aluminum alloy, 303 stainless steel, iron, silicone, plastic |
| Engraving diameter range | 4-138mm |
| Width adjustment | 4 grades, 0-30mm |
| Control method | USB/Offline controller |
| Product Size | 295*185*80mm |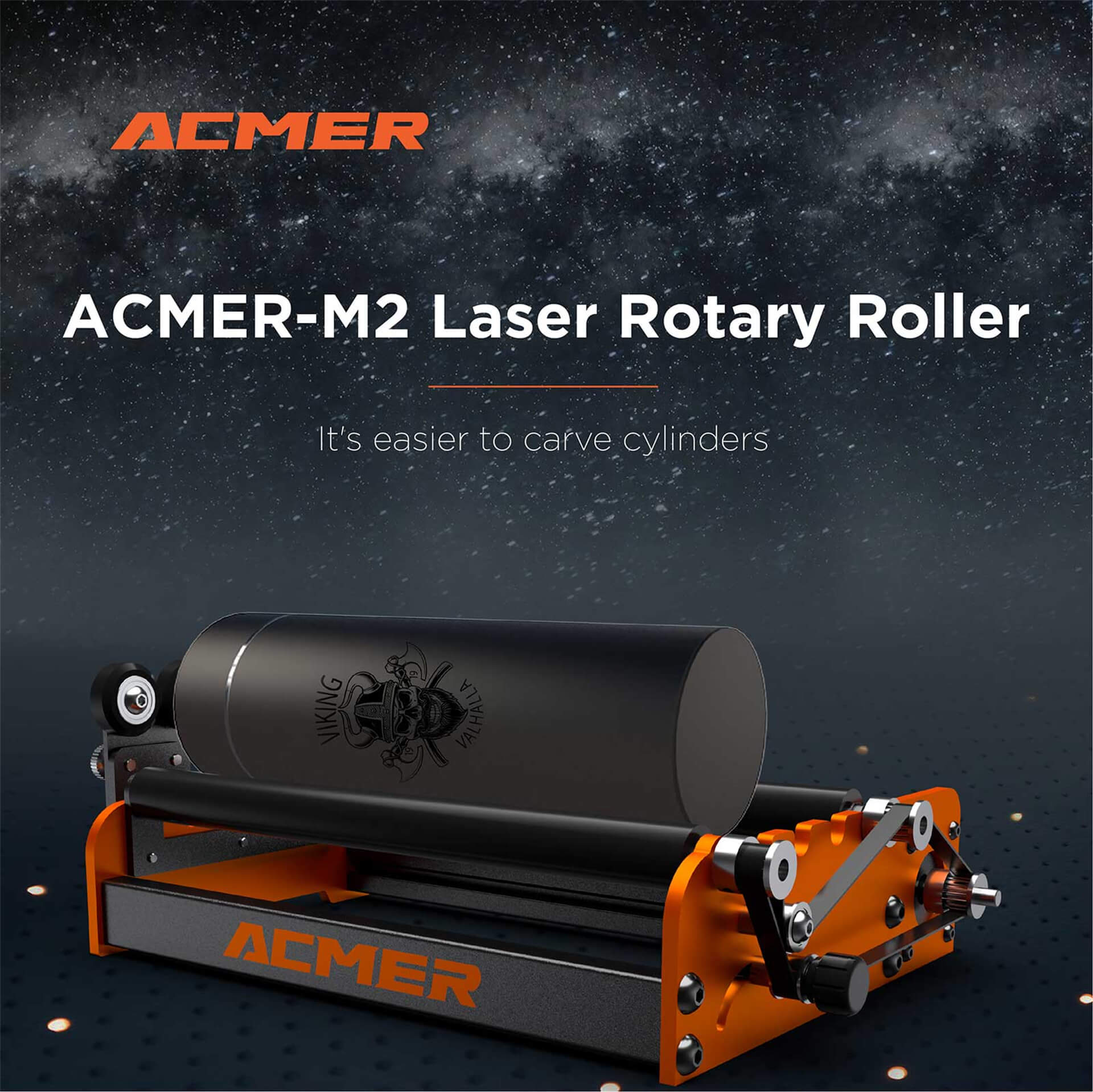 ACMER M2 rotary roller, the perfect upgrade for expanding your engraving capabilities and adding variety to your projects. Designed specifically for engraving tumblers and cylindrical objects with ease, this rotary roller is a must-have accessory for any laser engraving enthusiast.
Features
Wide Compatibility: ACMER M2 rotary laser engraver is compatible with a wide range of laser engraving machines, making it a versatile choice for professionals and hobbyists alike.

Easy Mode Switching: With a convenient toggle switch, you can easily switch between rotary and non-rotary modes. When you don't need to use the rotary function, simply turn it off.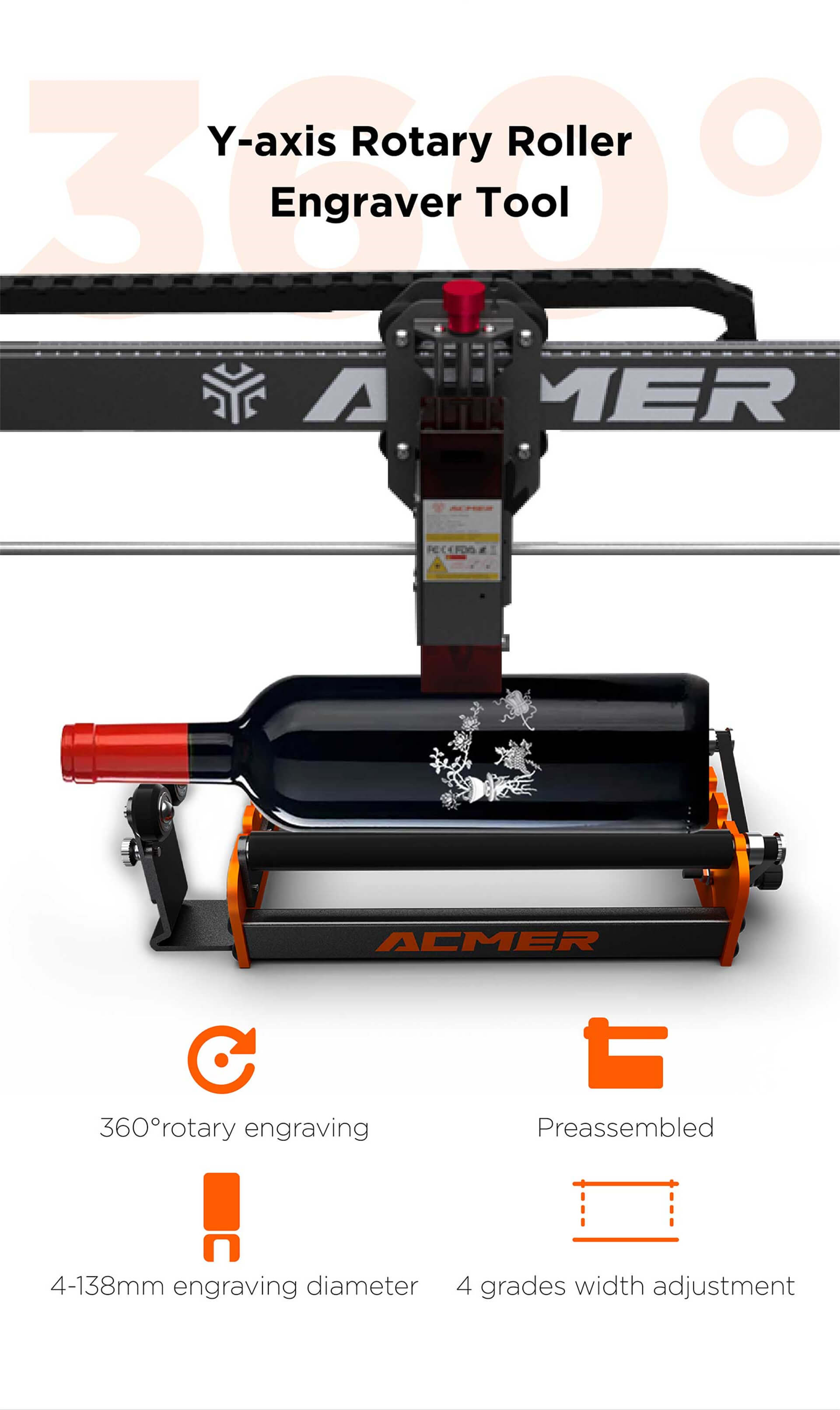 Easy Setup and Use: The rotary roller comes fully assembled and ready to use right out of the box. Simply connect it to your laser engraving machine by replacing the Y-axis terminal. No complicated assembly required, allowing you to start engraving quickly.

Perfectly Matched for Round Objects: The one-piece rubber laser engraver rotary is designed to engrave round or cylindrical objects such as cups, pens, bottles, pipes, bowls, drums, tubes, and over-length plates. Its high hardness and strong friction ensure precise 360-degree engravings.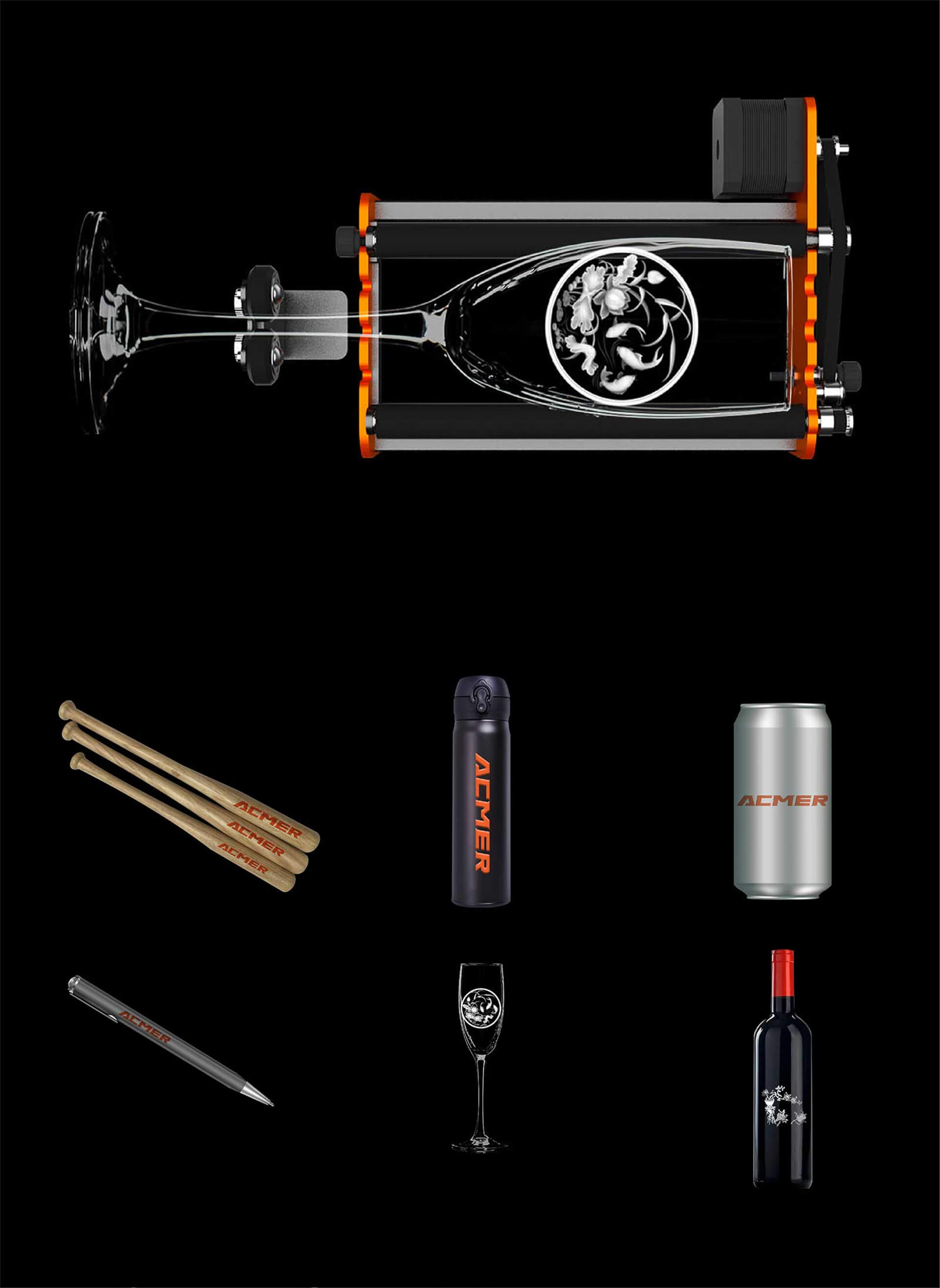 Adjustable Engraving Table Height: The rotary roller features adjustable axes, allowing you to process a wide range of cylinder diameters. Before use, please ensure that the space between your machine's laser head and engraving table can accommodate the added height.

100% Pre-Assembled, Plug and Play: Our rotary roller comes fully installed in the package, complete with an adapter cable. Simply connect it to the Y-axis wiring of your laser engraving machine, and you're ready to engrave cylindrical objects like pens and water bottles.

Easy and Fast Sliding Adjustment: Adjusting the distance for different sizes of cylindrical objects is a breeze. Just slide and fix the screw by hand, allowing for quick and precise adjustments. The rotary roller's high-friction 70A anti-slip rubber shaft and durable steel construction ensure a longer service life.

Widely Compatible: We provide two motor extension cables, making our rotary roller compatible with other brands of engraving machines. Enjoy seamless integration and expand your engraving possibilities.
Upgrade your laser engraving experience with our versatile and easy-to-use rotary roller. Enhance your creativity and unlock new possibilities for engraving on cylindrical objects. Order now and take your projects to the next level!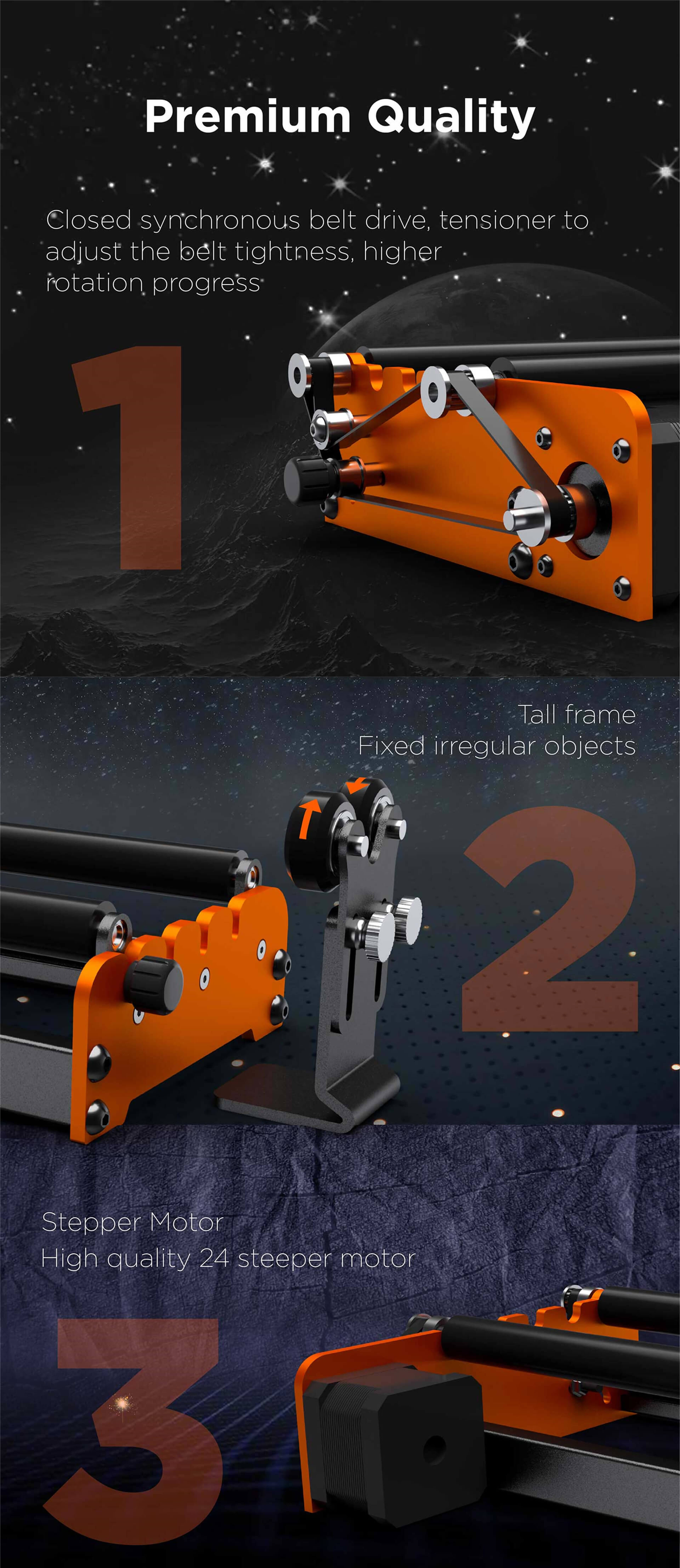 Flexible and adjustable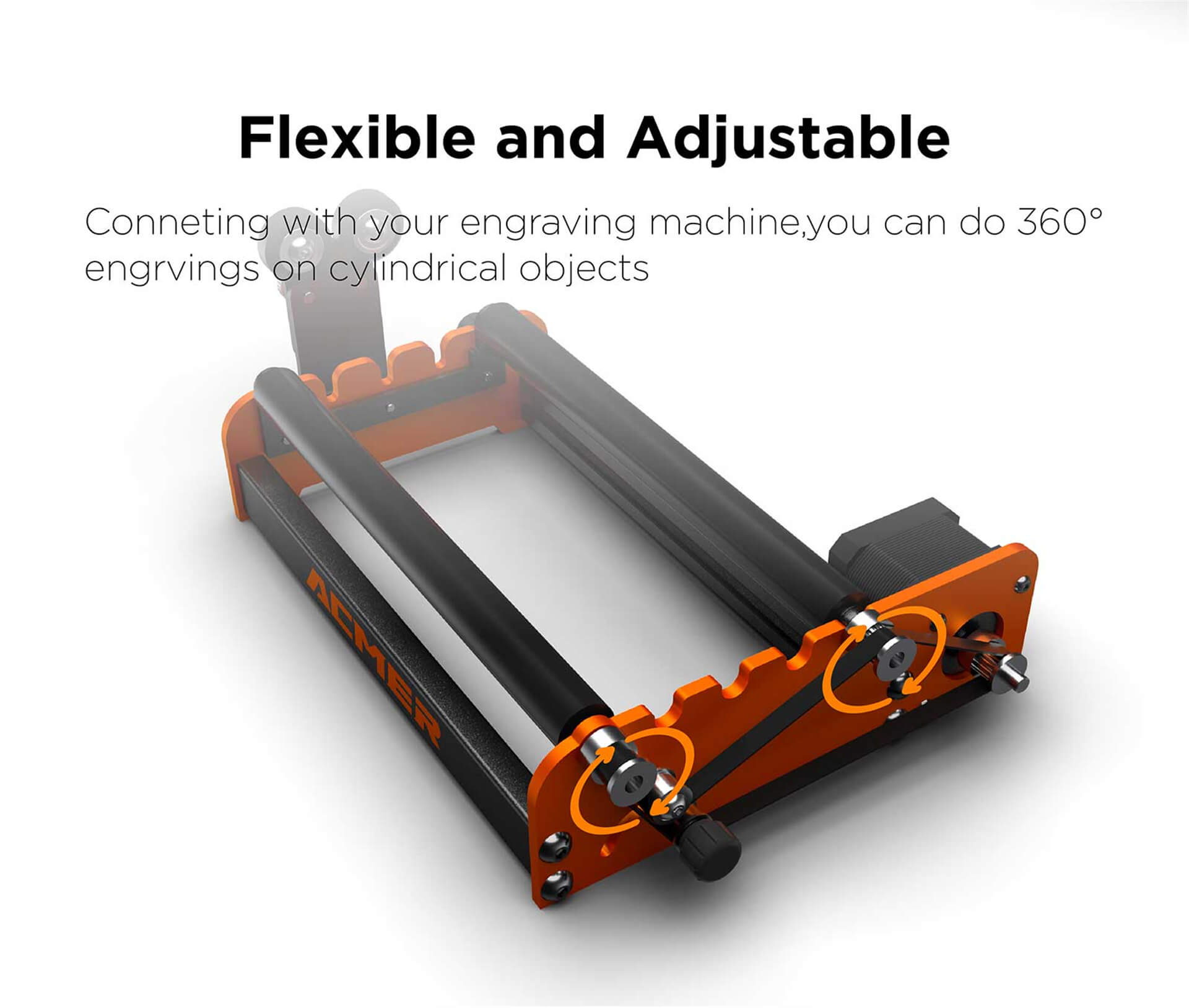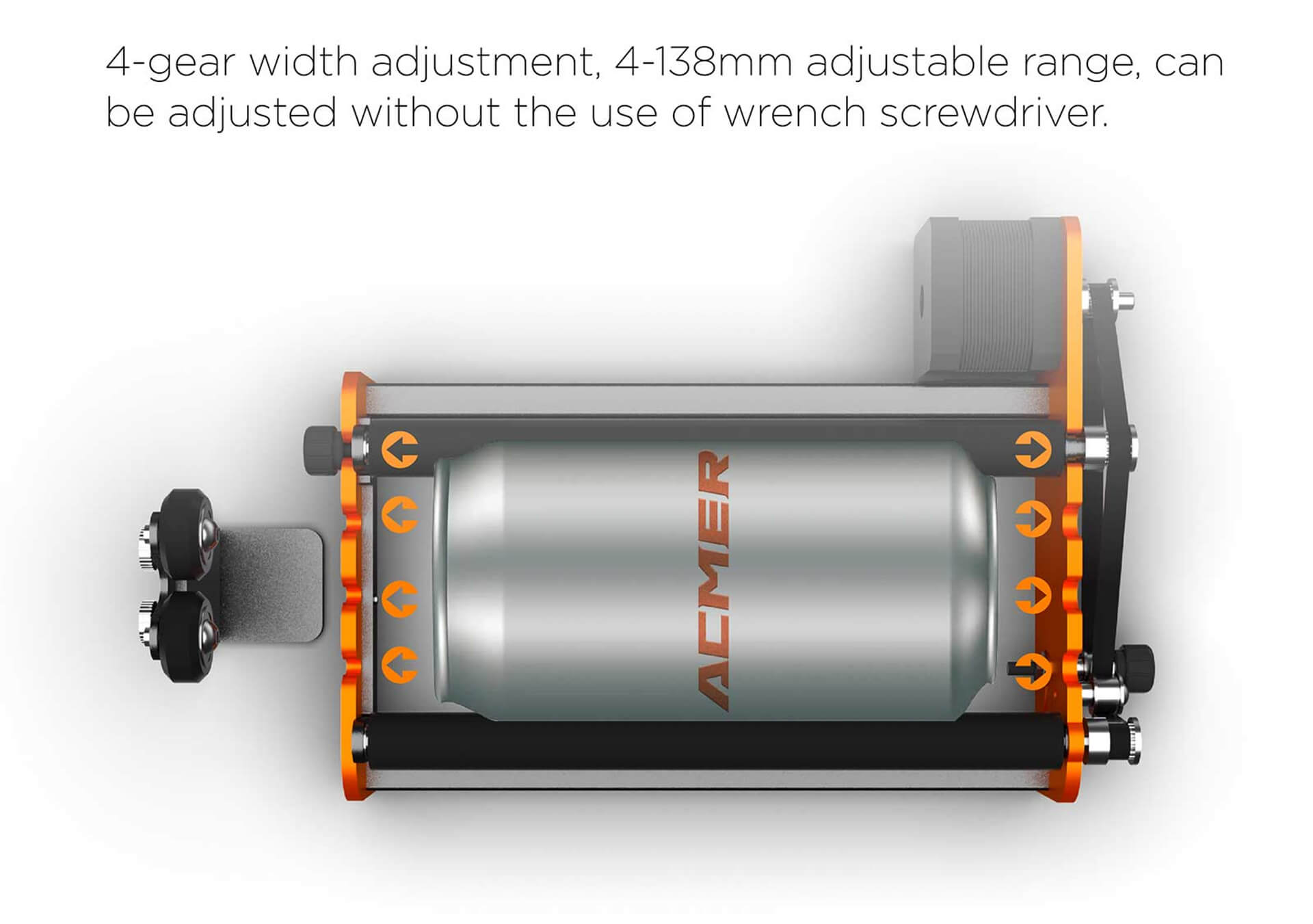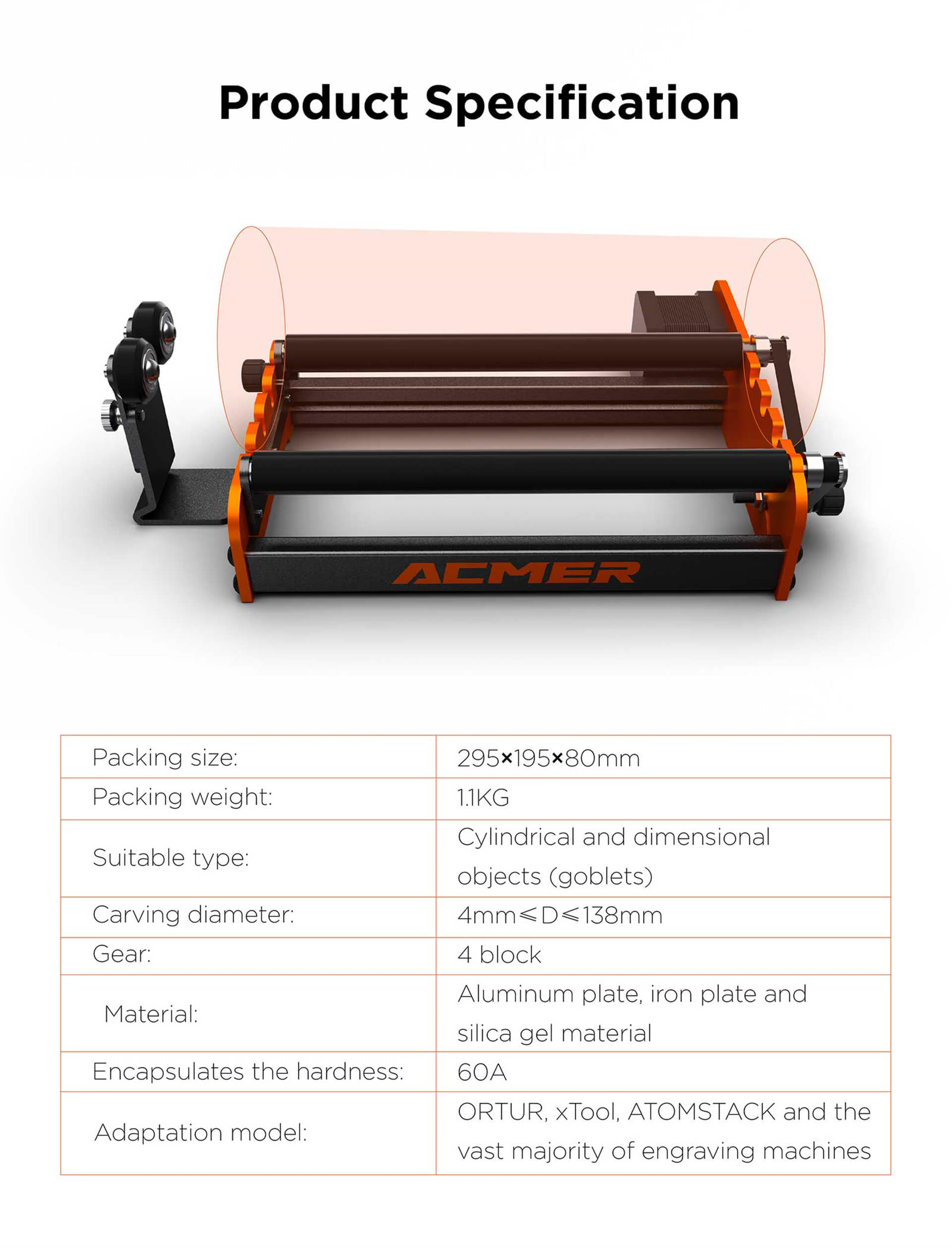 | | |
| --- | --- |
|  Brand | ACMER |
| Type | Laser Rotary Roller |
| Model | ACMER M2 |
| Color | Black + Orange |
| Material | Aluminum alloy, 303 stainless steel, iron, silicone, plastic |
| Engraving diameter range | 4-138mm |
| Width adjustment | 4 grades, 0-30mm |
| Control method | USB/Offline controller |
| Product Size | 295*185*80mm |